Author Archive
Comic artists Nate Bellegarde and Ransom Getty will be at an artist signing event at New England Comics in Allston from 4pm to 7pm Friday, April 29th! Come meet these great artists as well as great local artists such as Tofusquirrel and musician Casey Desmond!
Comments Off

on Nate Belgrade and Ransom Getty at NEC in Allston, 4/29
Traffic this morning was suspiciously light… it made me wonder if everyone was somehow at PAX getting in line for the opening ceremony. This weekend, the equivalent of the ENTIRE TOWNS of Brookline or Waltham will visit PAX East to celebrate their collective love of games. If you're there, make sure to look for an cheer for Kevin Mullen, who is from Boston and will be competing in the OMEGATHON for fabulous prizes. 😉
So, you going to WIN PAX EAST?
Comments Off

on PAX East is here
Comments Off

on Local Gamer to Compete in the Pax East Omegathon
This weekend, the Hynes Convention Center will host the New England Comic Con and such guests as cast members of Buffy the Vampire Slayer, Adam West and Burt Ward of the 60s Batman show, and Lee Majors, the 6 Million Dollar Man. There will also be panels, local dealers such as Harrison's Comics from Salem, and national dealers such as Another Heaven, where you can get amazing Asian martial arts DVDs online.
http://www.wizardworld.com/home-newengland.html
Purists may observe that the name is a little misleading: this is less of a dedicates comic book event than it is a pop culture event. There will be anime, toys, and lots of TV stars there signing autographs. Yet how can you not smile at the idea of shaking hands with the former Batman and current mayor of Quahog?
Comments Off

on New England Comic Con: October 15-17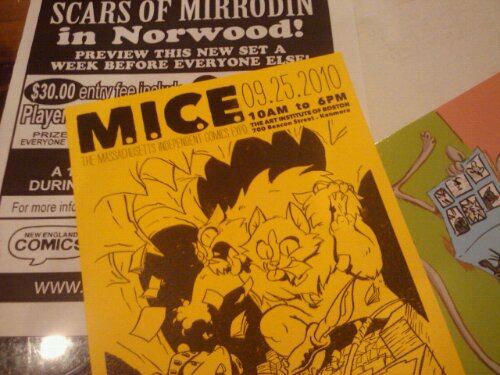 On September 25 from 10am to 6pm, small press and self published comics, webcomics and zines will be exhibiting at the Art Institute of Boston. 700 Beacon St. Kenmore Square. FREE!
Comments Off

on MICE – Mass Independent Comics Expo
On 7/11, Seven Eleven stores will treat you to a free 7.11oz Slurpee drink!
Comments Off

on July 7: Free Slurpee Day
ConnectiCon 2010 will be held the weekend of July 9-11, 2010 at the Connecticut Convention Center and Hartford Marriott Downtown. Events at the convention center will take place on Friday and Saturday between 8am and midnight, and Sunday between 8am and 6pm. Events at the Hartford Marriott Downtown will run 24-hours a day beginning at 8am on Friday morning and ending at 6pm on Sunday evening.
Comments Off

on Connecticon: July 9-11, Hartford CT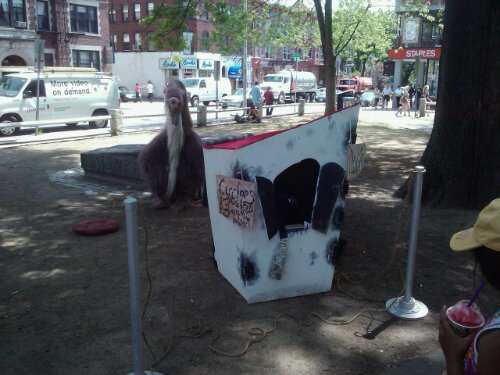 Step right up and get your ticket today to see the world's only cyclops! Today in Harvard Square, and if you donate $3 you get a gift from the cyclops!
Comments Off

on In harvard square today: cyclops!
ZOMBIE MARCH IS RAIN OR SHINE, IT WILL HAPPEN NO MATTER WHAT.
Come one come all and come zombified! We are meeting outside of south station and proceeding upon a determined route to terrorize boston! We will be leaving PROMPTLY at 4 so be there early! (more…)
Comments Off

on Zombie March – May 29
Geek Pride Day is an initiative which claims the right of every person to be a nerd or a geek. It has been celebrated on May 25 since 2006, celebrating the premiere of the first Star Wars movie in 1977.
It shares the same day as two other science-fiction fan 'holidays' – Towel Day, for fans of the Hitchhiker's Guide to the Galaxy Trilogy by Douglas Adams, and the Glorious 25th of May, for fans of Terry Pratchett's Discworld.
Comments Off

on Geek/Nerd Pride Day – May 25